IONKINI Personal Portable Wearable Air Purifier Necklace JO-2001
•Clean air everywhere. It can be hanged around neck, perched on desk at work or by bedside at night.
•Ultra-quiet design & Ultra-low ozone emission.
•Hassle-free maintenance. No filter replacement.
•Comes with safety breakaway lanyard
•Can be standing on desk or fixed onto the car vent with the additional clip holder accessory.

: Clean Air Everywhere
: For Outdoor & Indoor Use

Product Details
Technical Specification
Video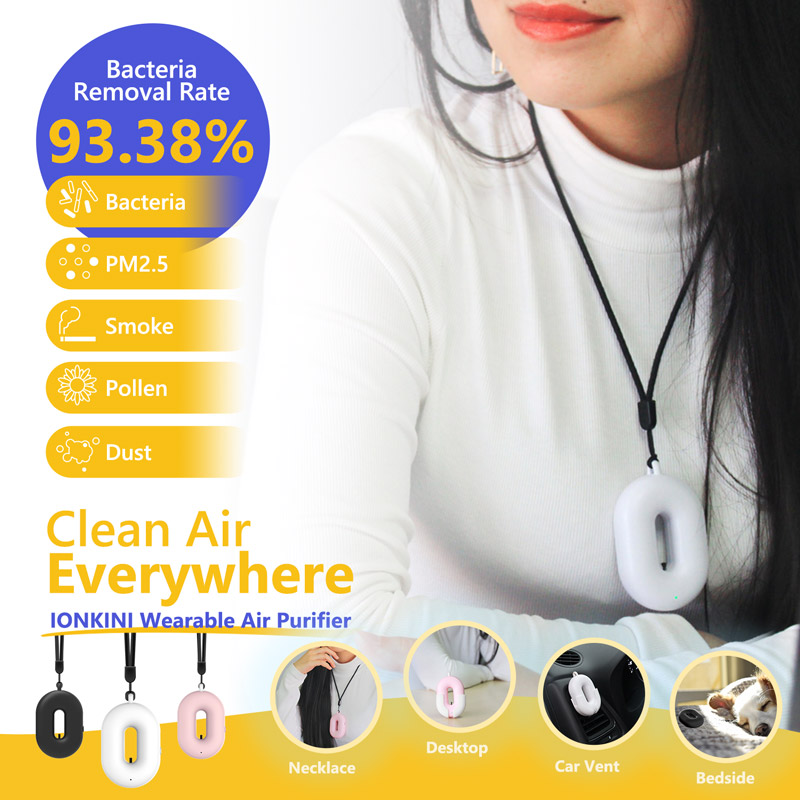 IONKINI
Portable Wearable Air Purifier JO-2001
Necklace | Desktop | Bedside | Car Vent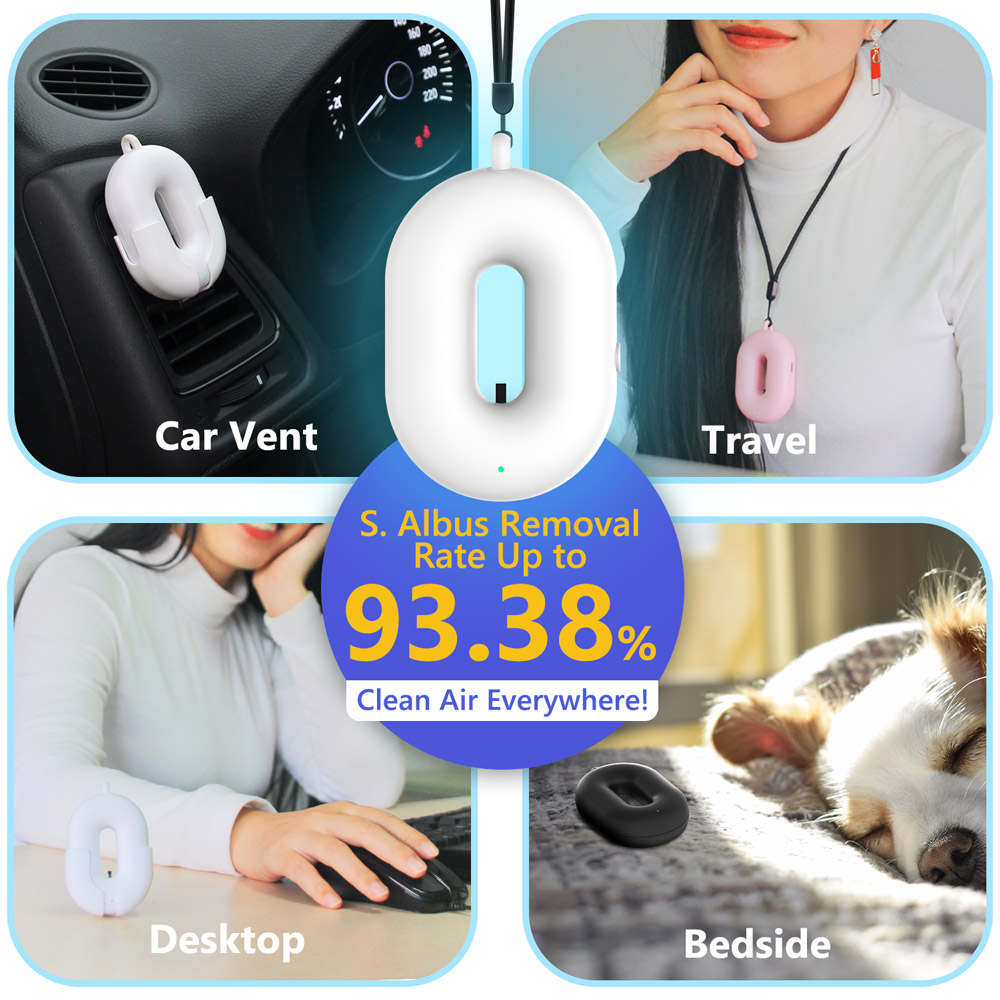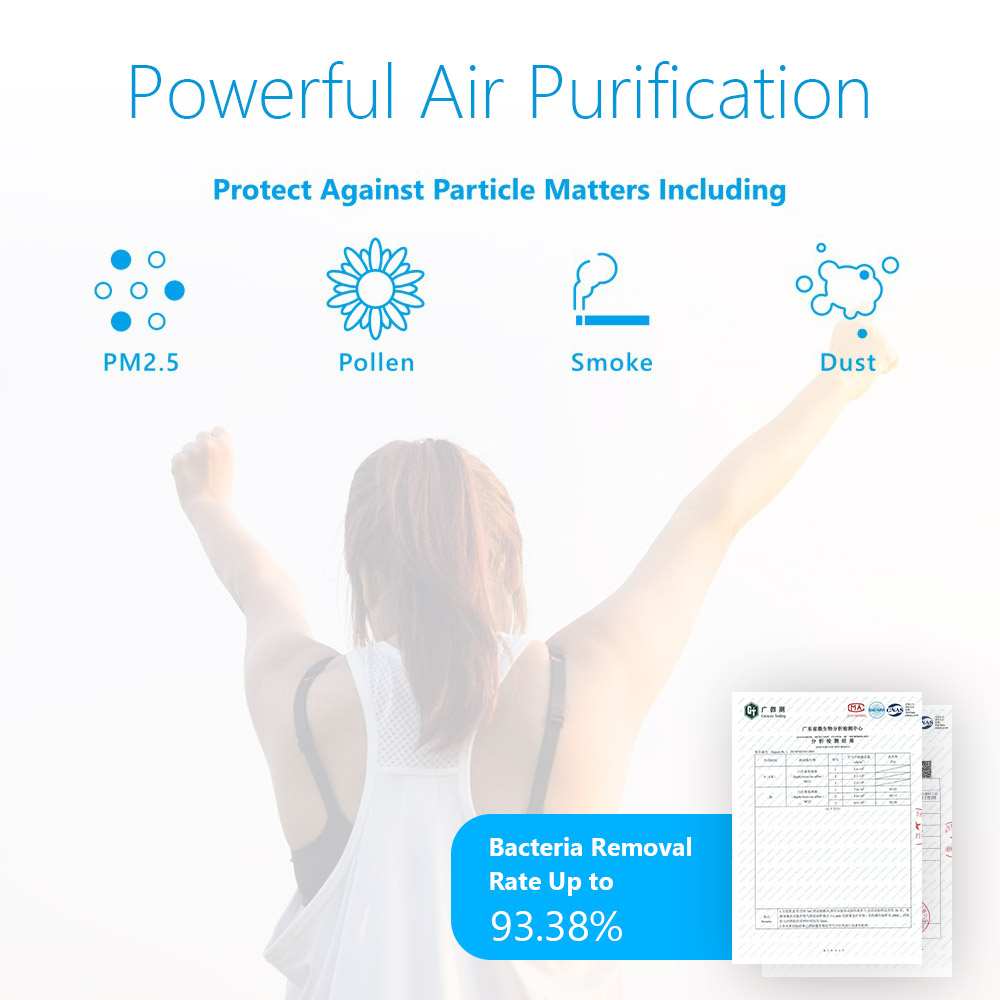 Powerful Air Purification
IONKINI Wearable Air Purifier JO-2001 adopts the latest new technology to release high density negative ions silently, which is effective in removing PM2.5, pollen, cigarette smoke, dust, bacteria and other pollutants around the breathing zone of the user.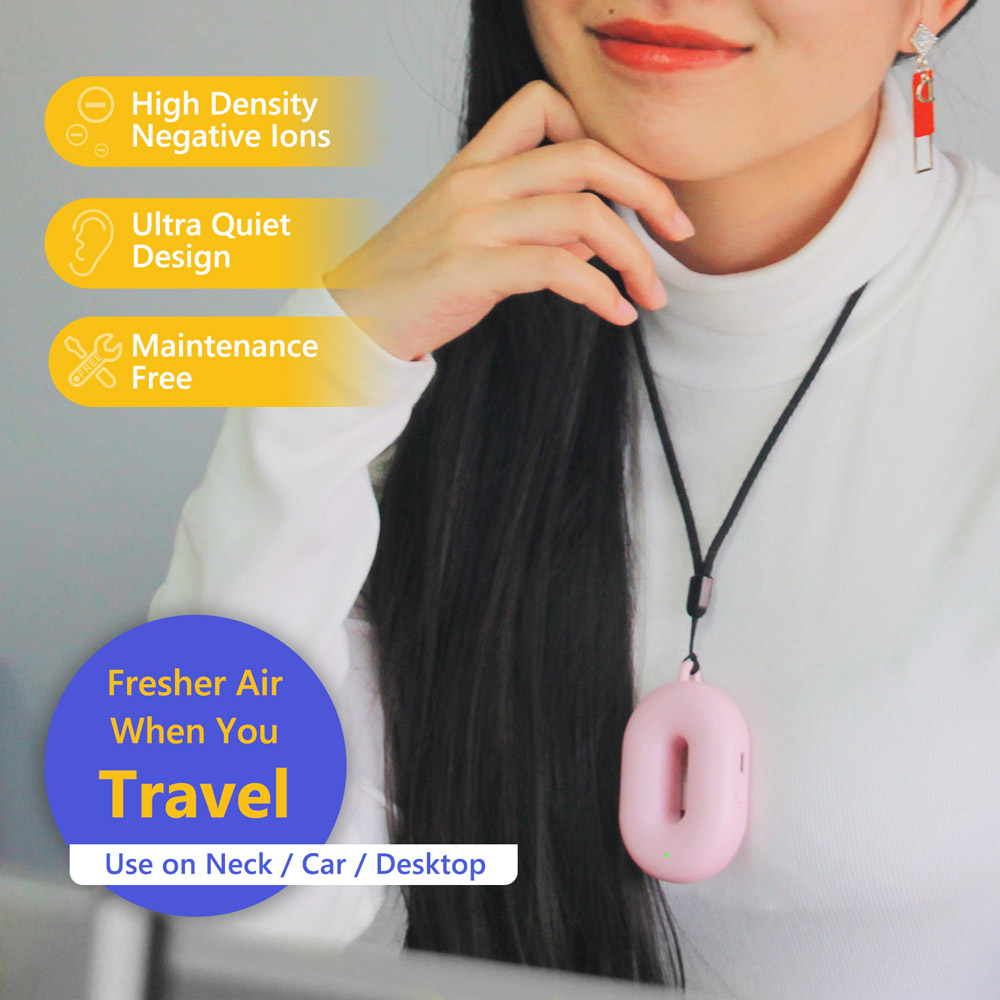 Necklace Air Purifier
Wear it on neck as a necklace, protecting users against air pollutants in the public area indoors & outdoors such as on the crowded street, elevator, bus, subway, classroom, office, cinema...
It can also be hanged on a baby stroller or a pet collar.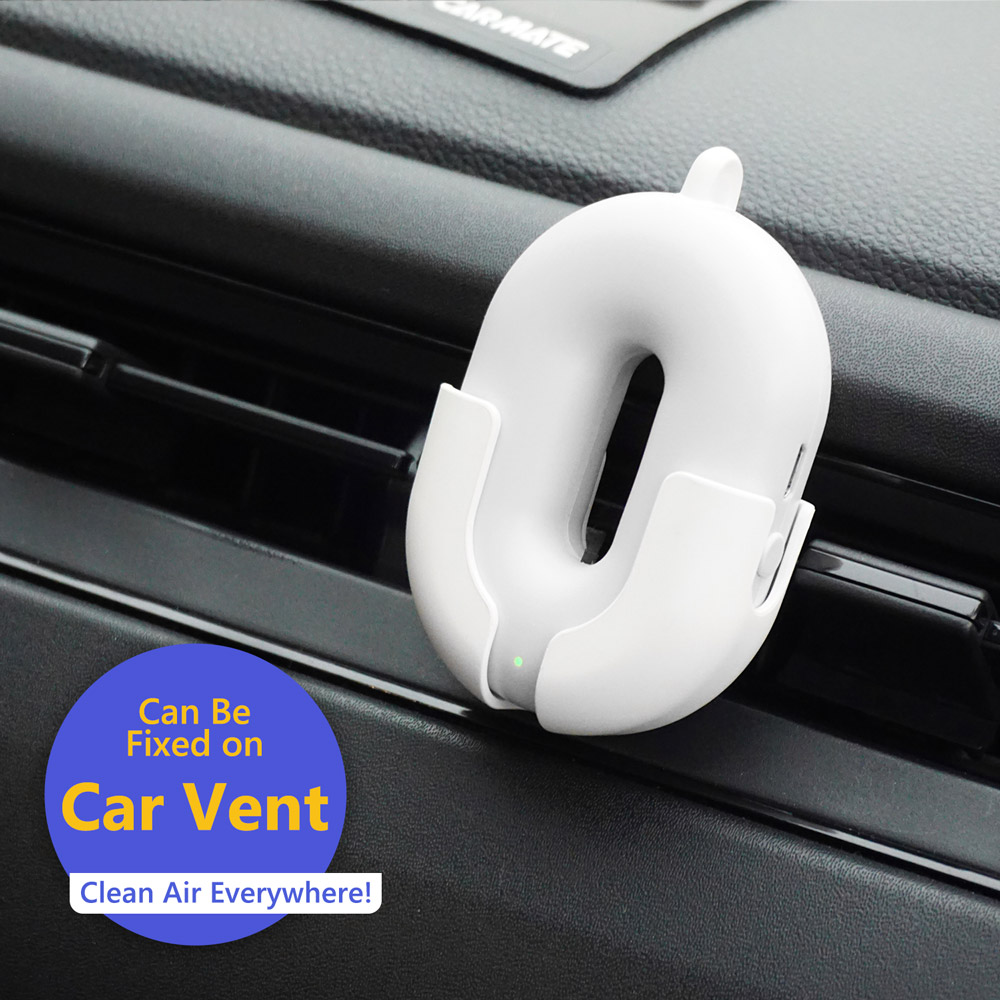 Fixed on the Car Vent
JO-2001 comes with an patented original special design for car.
With this clip & holder accessory, JO-2001 can function as a car air purifier.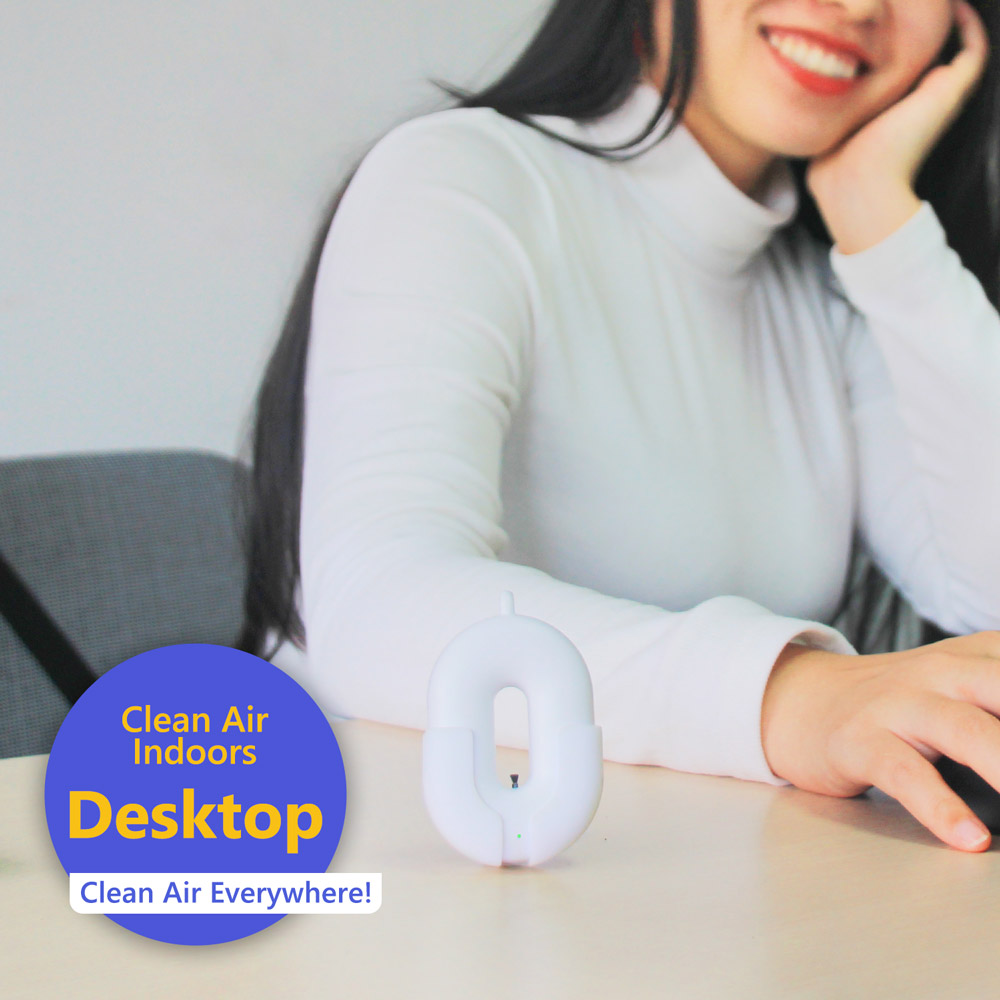 Fresher Air In Your Room
Just perch it on the desktop of your office, living room at home, JO-2001 can be a desktop air purifier by your side.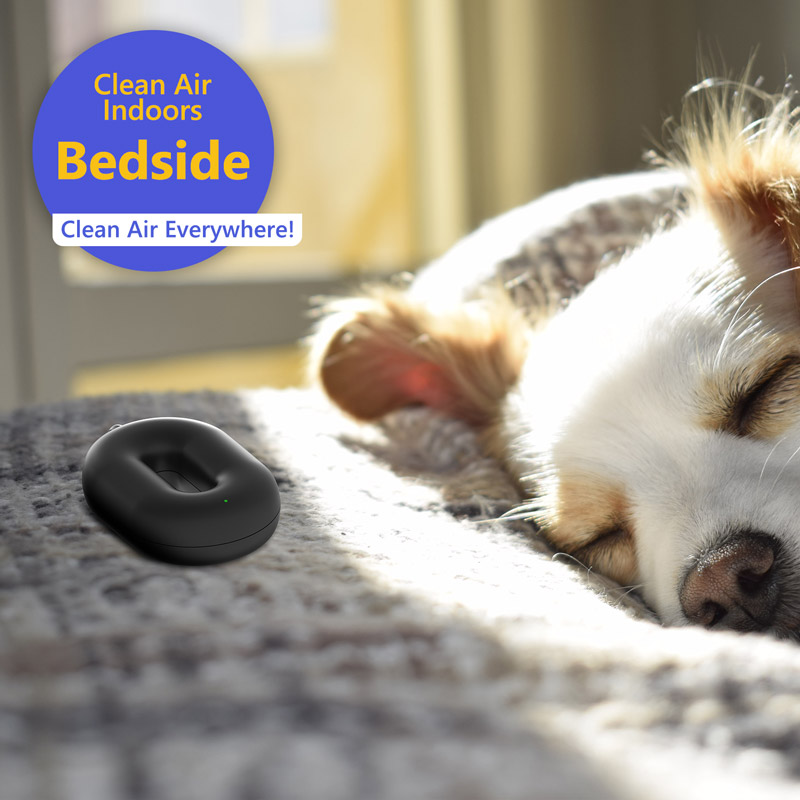 Even at Night
Wearable Air Purifier JO-2001 is always there, cleaning the air in bedroom. It can be used while it is charging through a USB cable at the same time.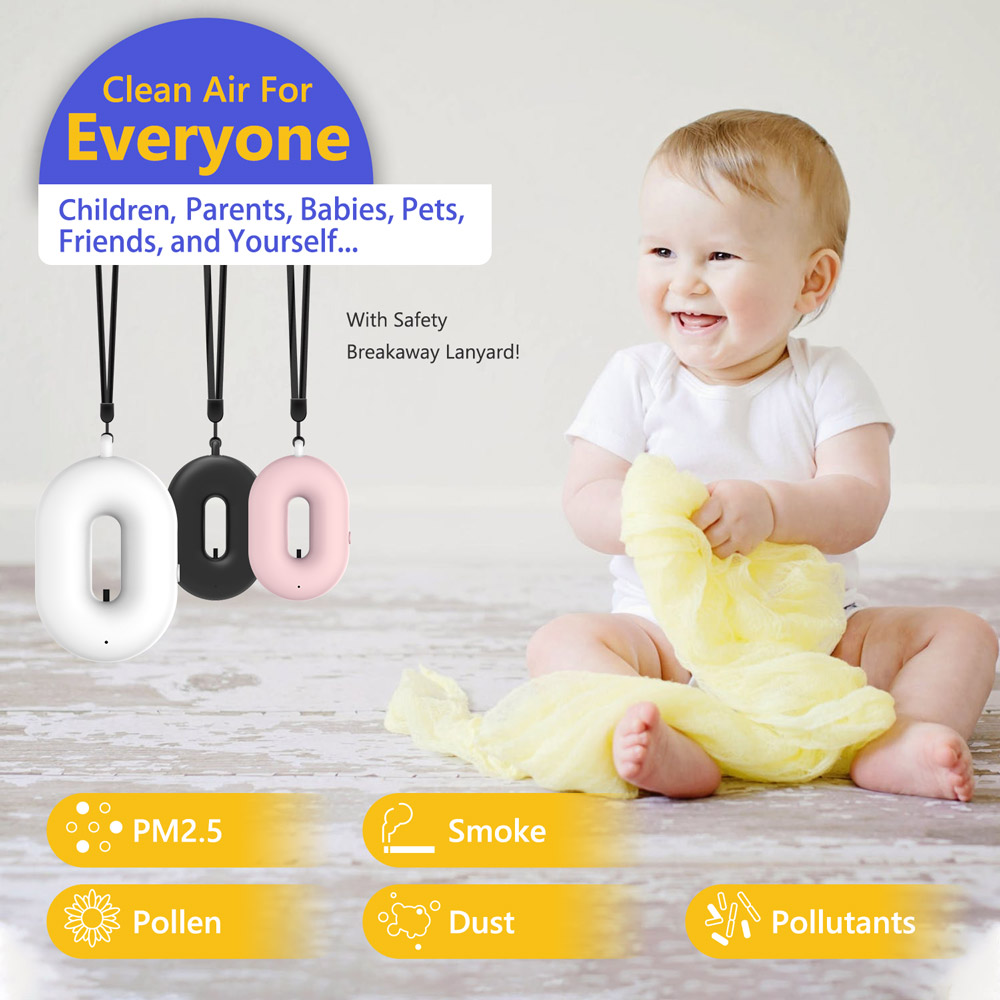 Clean Air for Everybody
A thoughtful gift dedicated to the beloved ones, children, babies, parents, pets, friends, and yourself.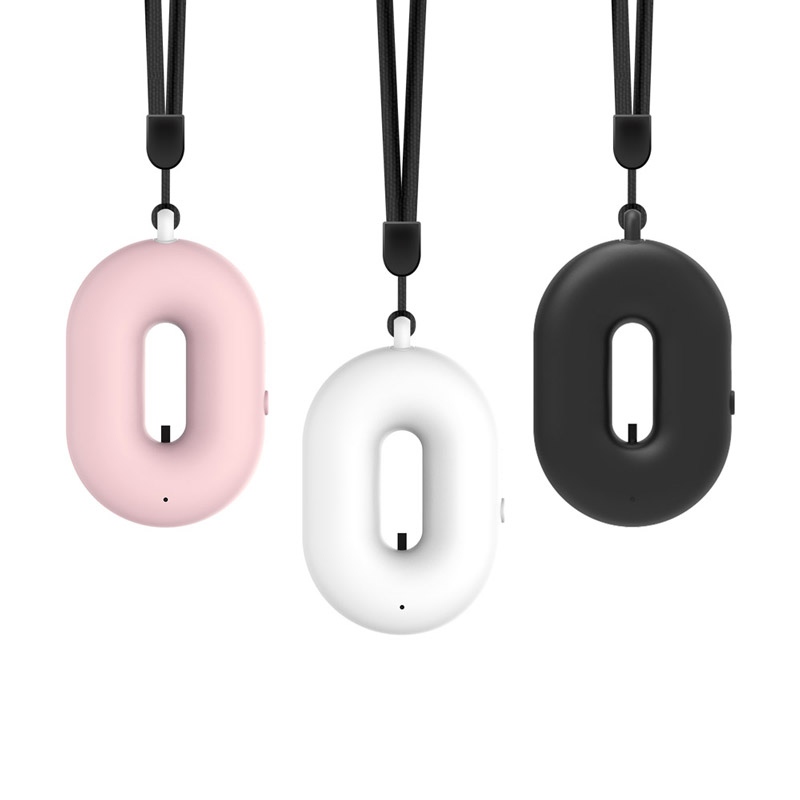 Customizable

Colors, LOGO, Packaging, Design or Features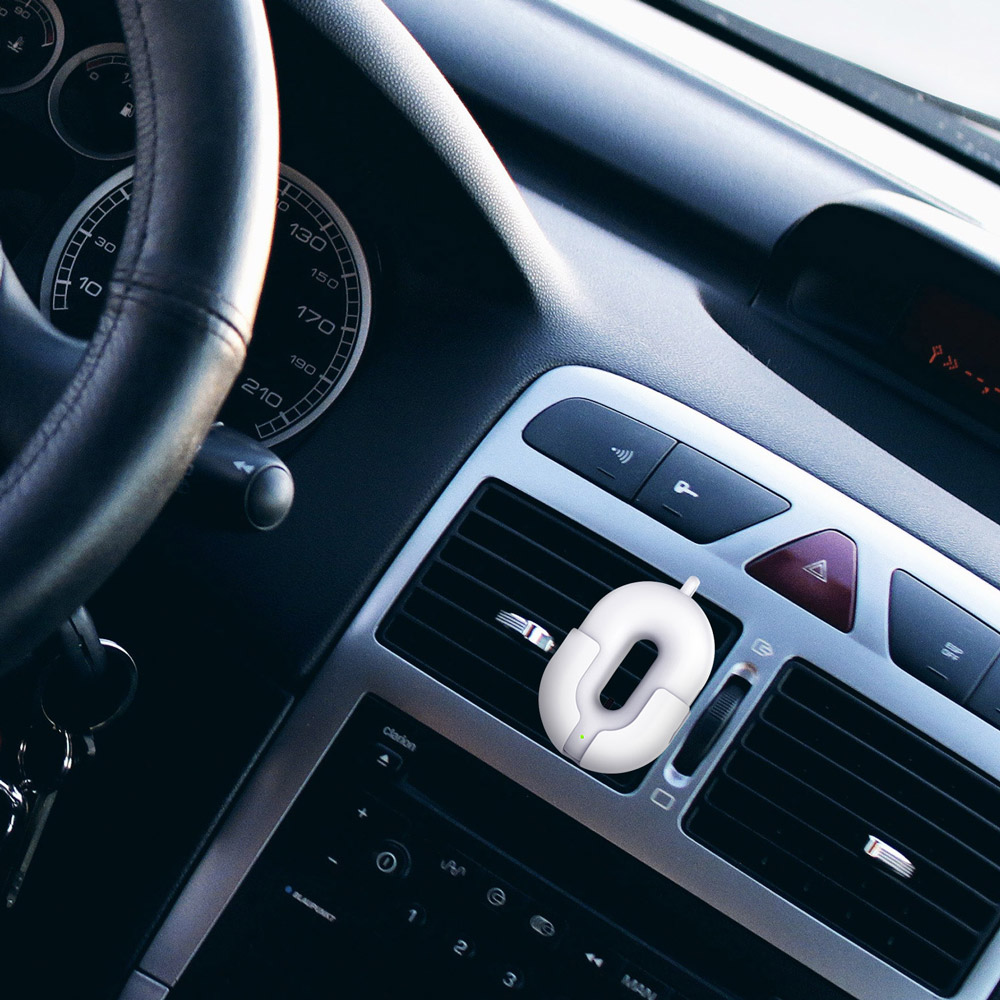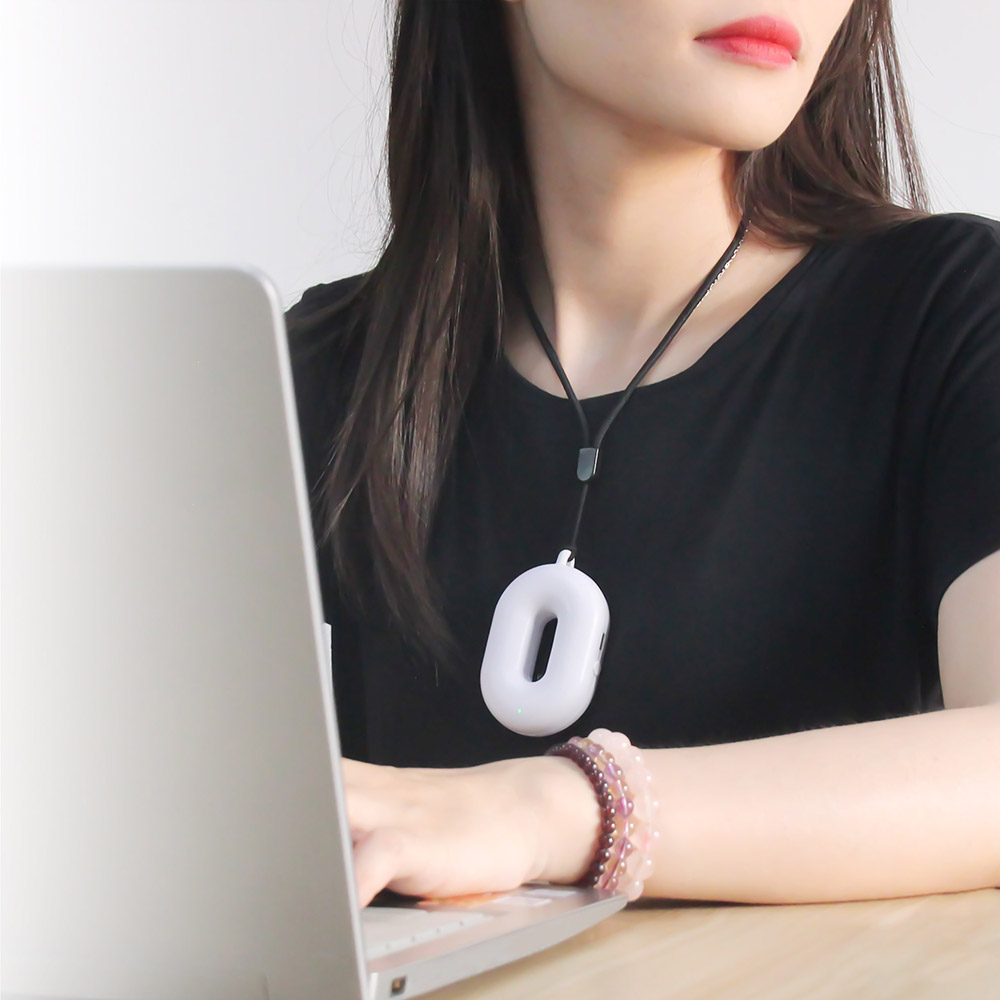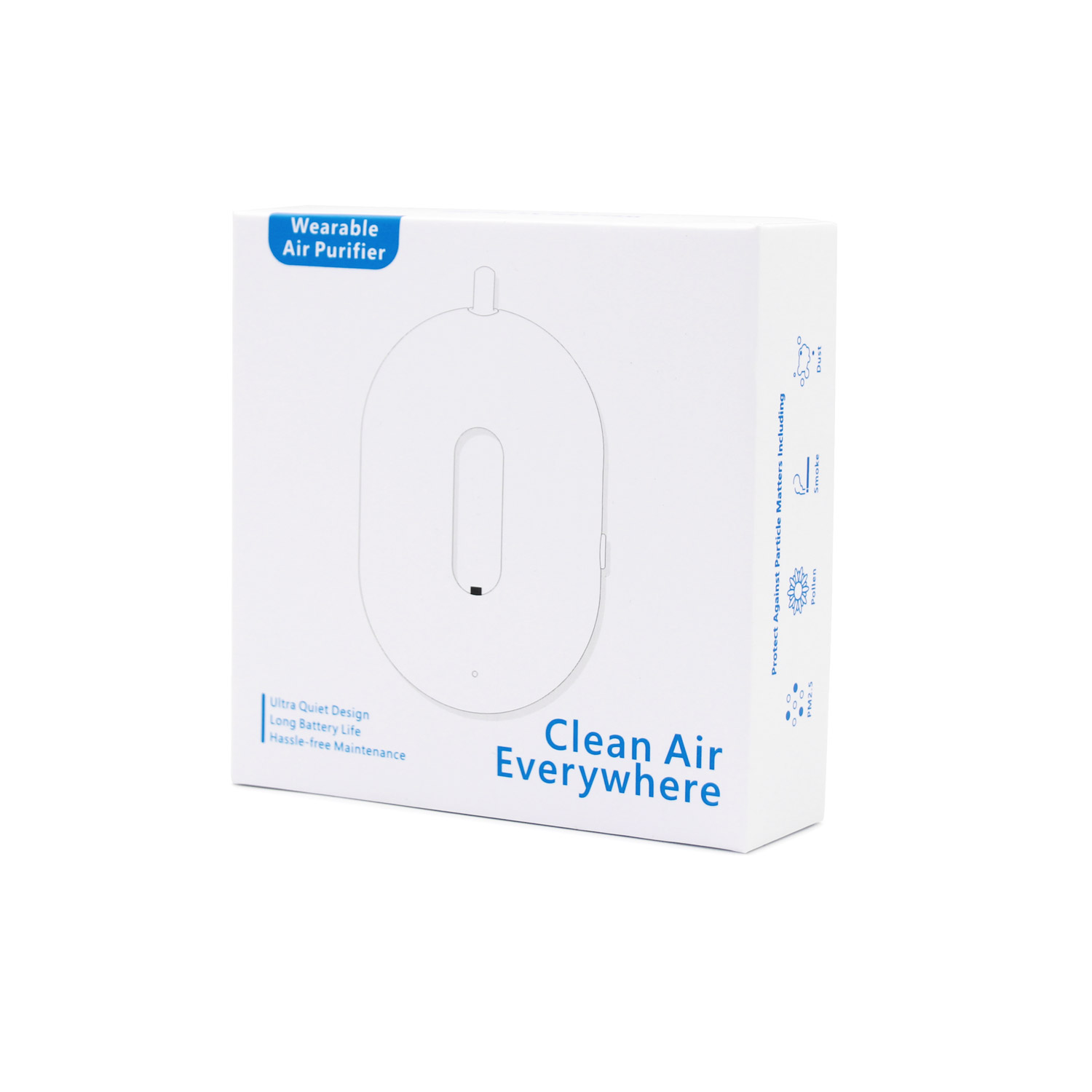 Packaging

Neutral gift box packaging. OEM customization service is available.
Specifications

IONKINI Personal Portable Wearable Air Purifier Necklace JO-2001
| | |
| --- | --- |
| Input voltage | 5V (USB) |
| Power consumption | ≤0.5W |
| Negative ion concentration | 24,500,000pcs/cm3 |
| Product dimensions | 79.5*50.5*21.2mm |
| Net weight | about 30g |
| Charging time | about 1 hour |
| Battery life | about 10 hours |
| Certifications | Ce, RoHS, Fcc |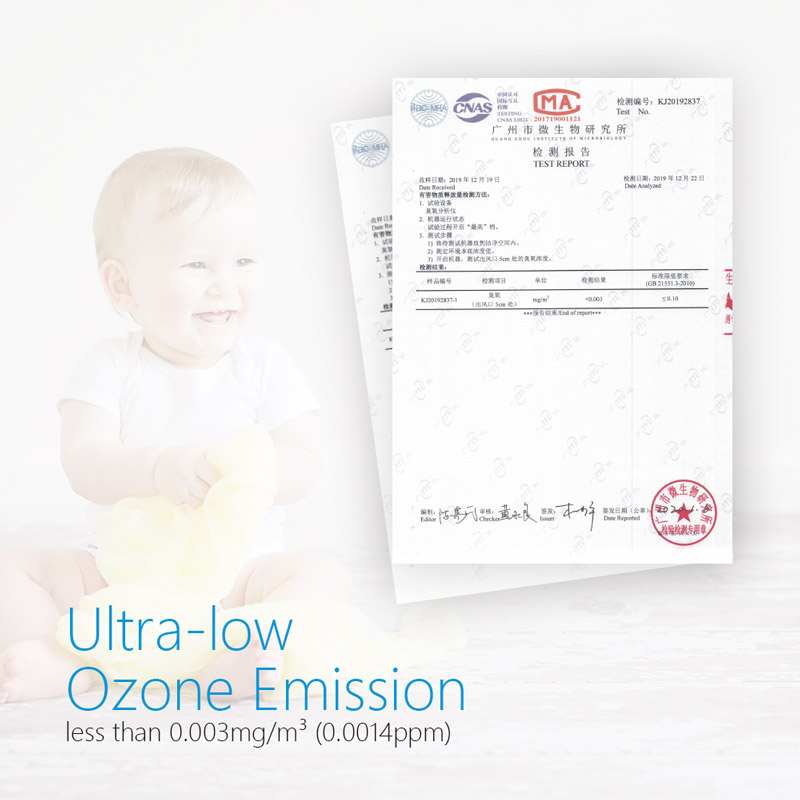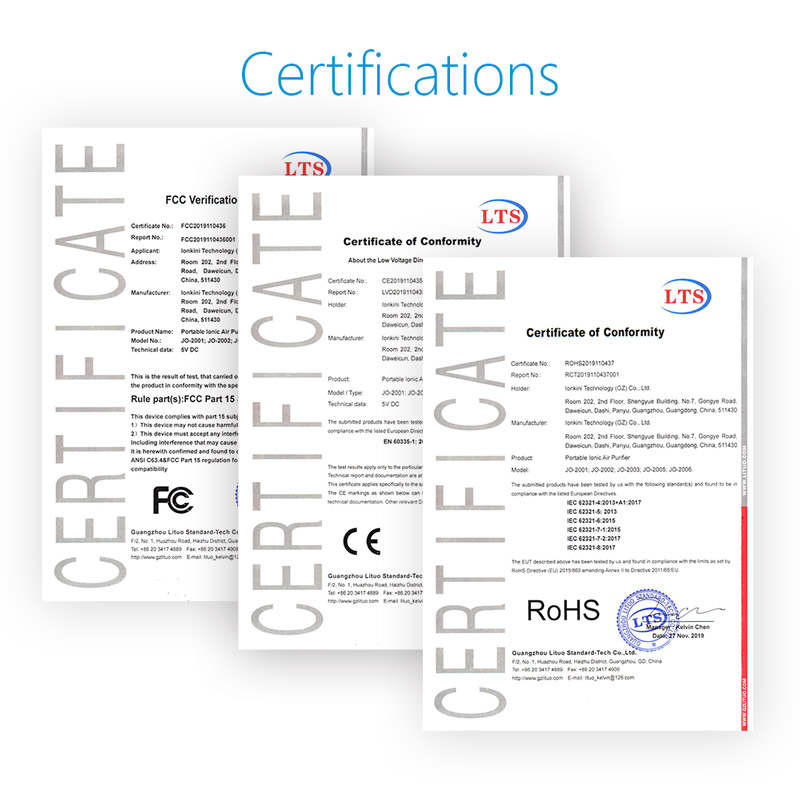 Certificates & Patent

Ionkini Wearable Air Purifier JO-2001 has been CE, RoHS, Fcc certified.
Its design is patent-protected (China Design Patent No. ZL2019303223753)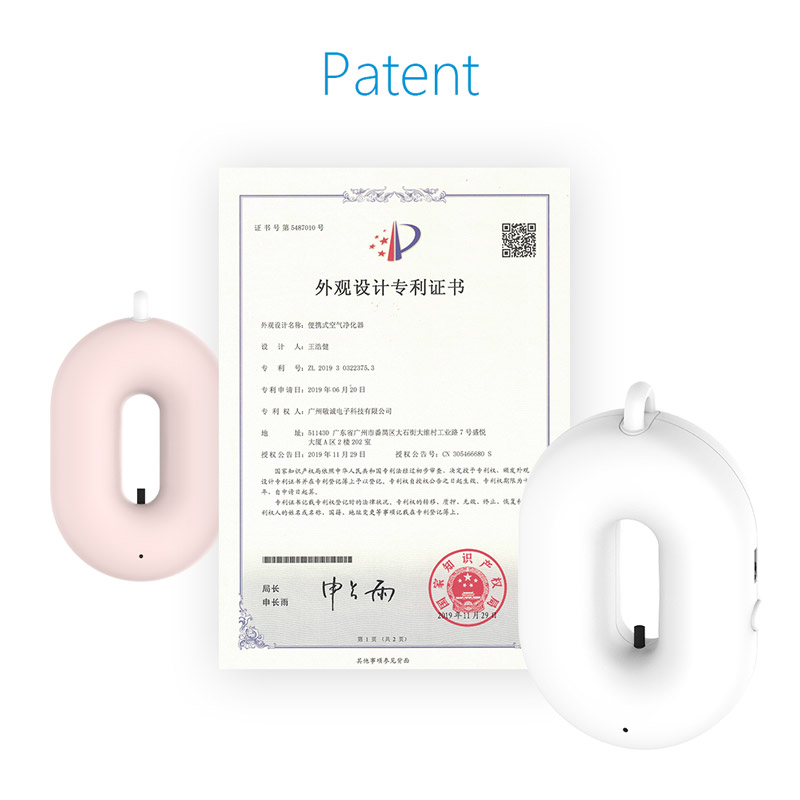 More Recommendations

Portable Wearable Air Purifier Series
* Product appearance in kind prevail. Product design, functions and specifications are subject to change without notice.
If there is any error or misunderstanding on the content, we reserve the right of final interpretation for the content herein.
Please contact us in advance for the accurate product information including product appearance, specifications and shipping cost before placing an order.
(If you would like to customize the product or the packaging, please contact us for more detail. Thank you.)
| | |
| --- | --- |
| Input voltage | 5V (USB) |
| Power consumption | ≤0.5W |
| Negative ion concentration | 24,500,000pcs/cm3 |
| Product dimensions | 79.5*50.5*21.2mm |
| Net weight | about 30g |
| Charging time | about 1 hour |
| Battery life | about 10 hours |
| Certifications | Ce, RoHS, Fcc |