2-in-1 Car Charger Air Purifier JO-6310
- 10th Generation Product
- 10 million pcs/cm³ negative ion concentration
- Built-in fan
- 24W super charge & universal compatibility
- Support 12V-24V input on car, RV, truck, lorry

Effectively remove air pollutants:
- Particles: like PM2.5, dust, pollen, smoke
- Germs & bacteria (up to 99.9%)
- Formaldehyde, benzene & VOCs
- Bad odors


: Ionkini 10th Gen Product
: with Super Fast Charging Function

Product Details
Technical Specification
Video
10th Generation New Arrival
2-in-1 Car Charger Air Purifier JO-6310
Upgraded Experience in Your Car Journey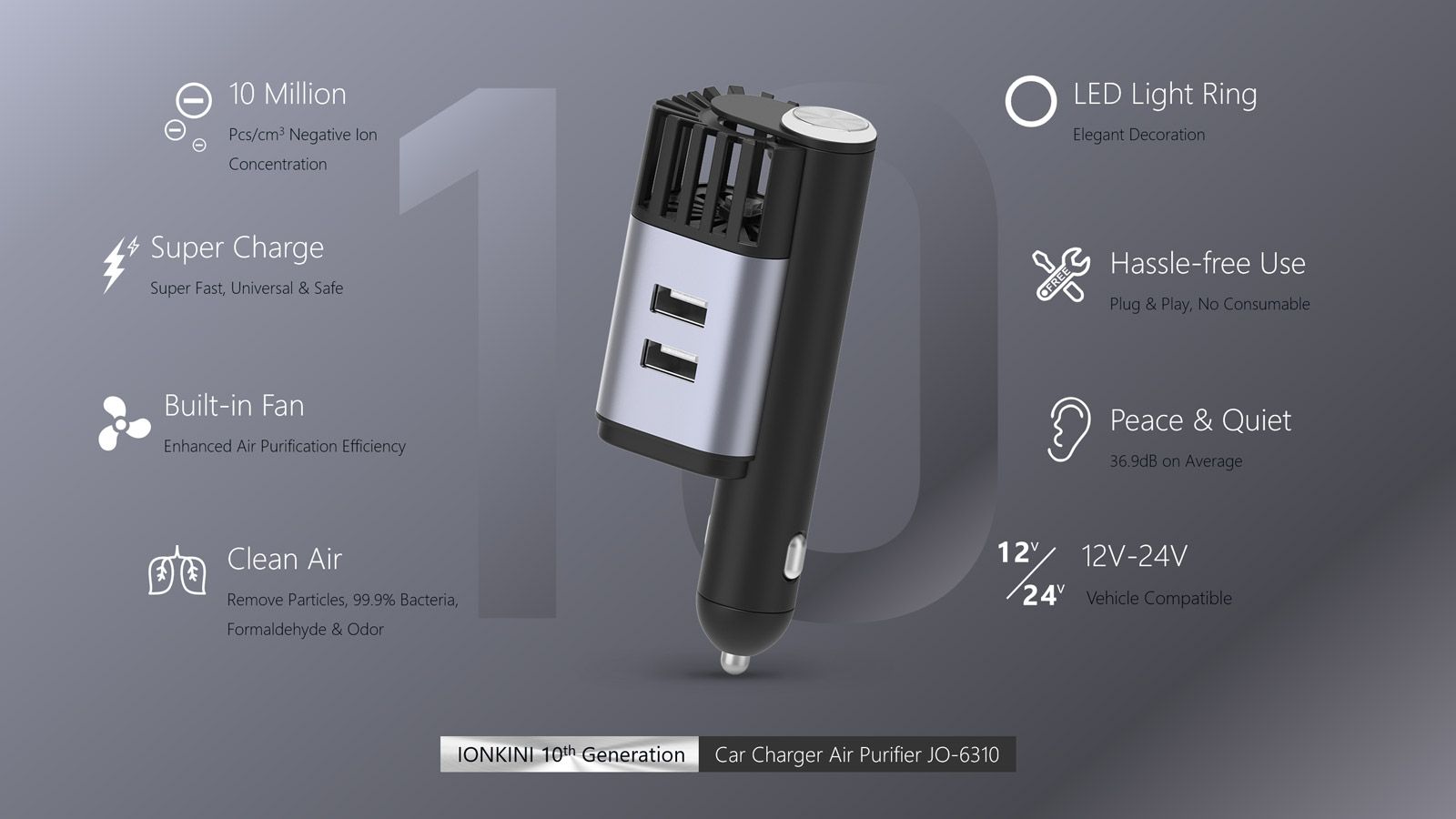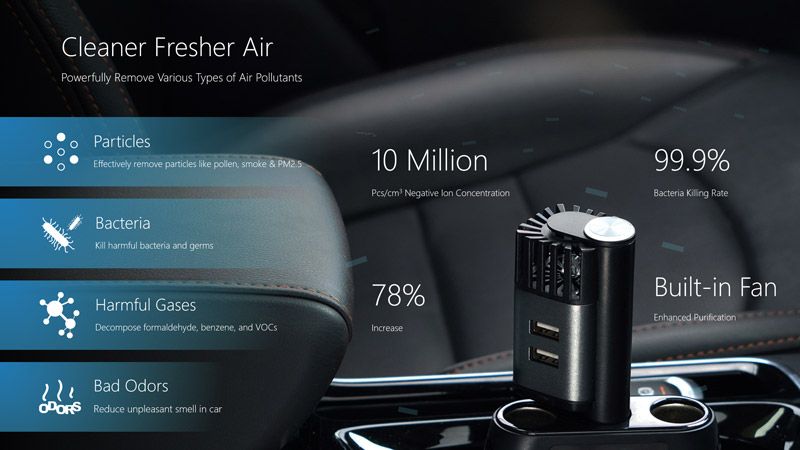 Protect Against Various Air Pollutants
By releasing 10 million pcs/cm3 negative ion & a safe amount of ozone (≤0.05ppm) ,
Car Charger Air Purifier JO-6310 can actively and effectively remove harmful airborne pollutants
including:Dust, pollen, smoke, PM2.5, formaldehyde, benzene, VOCs, bad odors and more.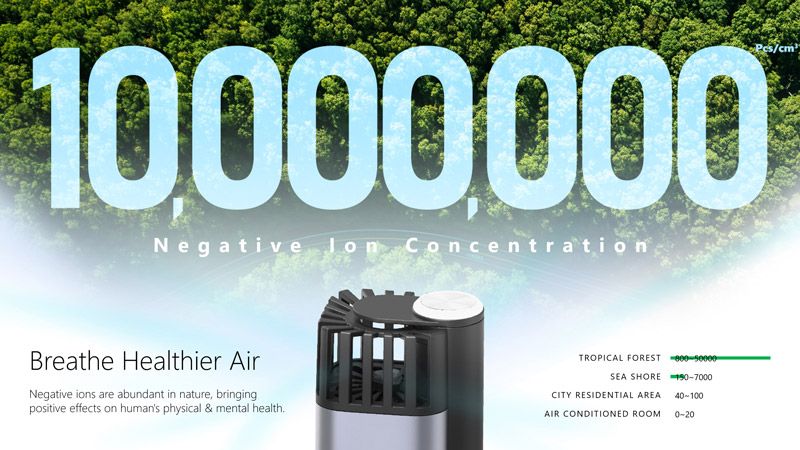 Healthier Air with High-density Negative Ions
Negative ion exists in waterfalls, forests, seashores in high concentration.
Besides effectively purifying the air and preventing you inhaling the air pollutants,
it has positive effects on human's physical & mental health.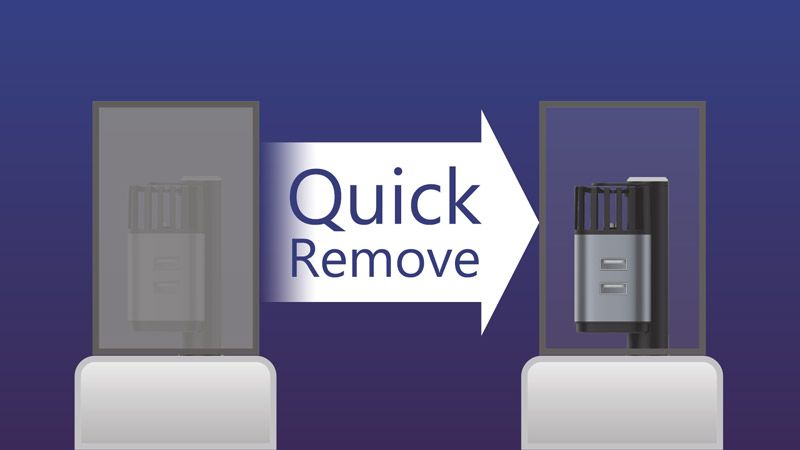 Powerful Air Purification
Car Charger Air Purifier JO-6310 adopts multi-needlepoint ionization to achieve higher negative ion output
and higher air purification efficiency. Dont' just take our words for it.
Do a test yourself to see it with your own eyes; pls contact us to get free samples.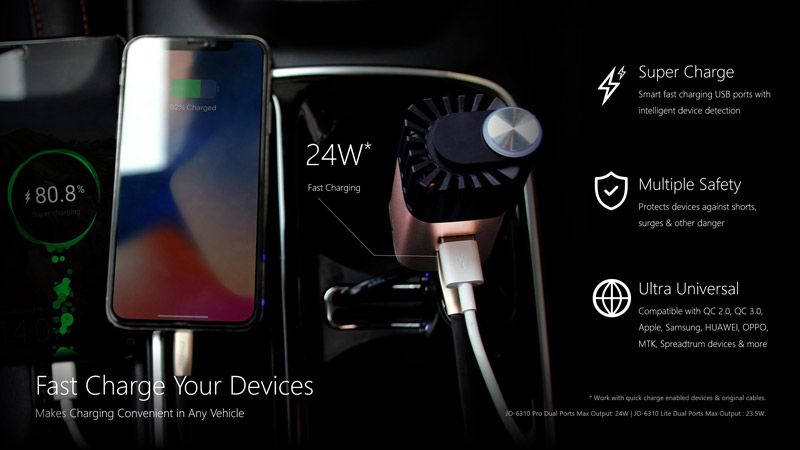 Quick Charge Car Charger
Not just clean air, it provides convenience to charge your phones and pads fast and safely.
* Work with quick charge enabled devices & original cables.
JO-6310 Pro Dual Ports Max Output: 24W | JO-6310 Lite Dual Ports Max Output : 23.5W.


Universal Compatibility
Extensively compatible with most mobile phones, tablets, or other USB devices.


Superior Safety
Safety system inside protects against shorts, surges and other dangers to keep you and your devices safe.


LED Indication Light
It glows gently to help you instantly locate the air purifier and USB ports, even while driving at night.




Small & Effective

Small size, cordless design. It is compact and will not interfere with gear shifting.
Quiet Design

Silently works its magic by your side.
Energy-saving
Powerful performance on air purification with low power consumption.

Filterless & Maintenance-free
Actively cleans the air by generating
negative ions. No regular filter replacement is needed.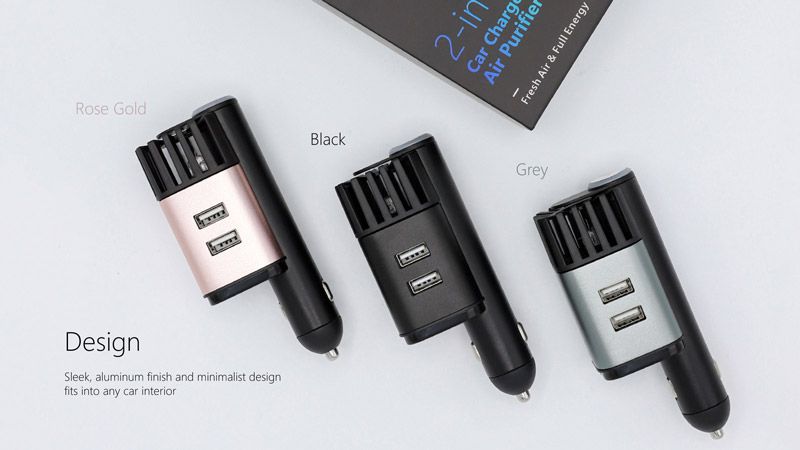 Sleek DesignSleek, aluminum finish and minimalist design fits into any car interior.


Packaging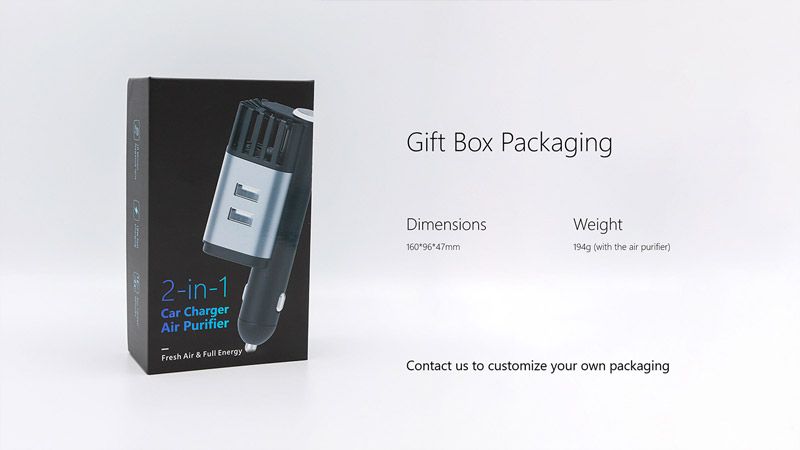 Gift Box Packaging is available.Great for online E-commerce, physical stores, auto car accessories stores
and also great ideas for holiday / business gifts. Please contact us if you need to customize your own packaging.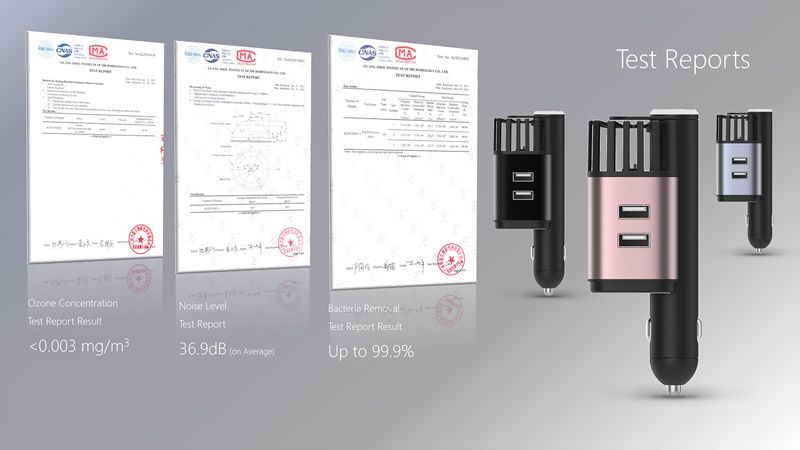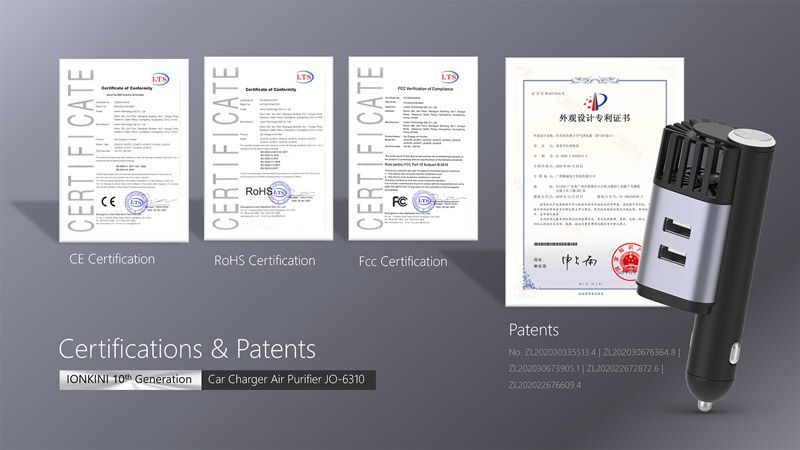 Certifications, Test Reports & Patents
Car Charger Air Purifier JO-6310 Series has been CE, RoHS, Fcc certified.
China Design Patent No. ZL202030335513.4 | ZL202030676364.8 | ZL202030673905.1 | ZL202022672872.6 | ZL202022676609.4
Specifications
IONKINI Car Charger Air Cleaner Ionizer Car Air Purifier JO-6310
Input: JO-6310 Pro: 12V~24V DC | JO-6310 Lite: 12V DC
Output:
JO-6310 Pro: Single port: 5V 3.6A/9V 2.5A/12V 2A 24W(MAX)
Dual ports: 5V 4.8A 24W(MAX)
JO-6310 Lite: USB port1: 5V 2.1A/9V 1.5A/12V 1A
USB port2: 5V 2A
Negative ion concentration: 10,000,000 pcs/cm3
Ozone concentration: ≤ 0.05ppm
Dimensions: 38.5mm*48mm*121mm (1.51*1.88*4.76 in)
Net weight: About 74g
Average Noise Level: 36.9 dB
Ambient temperature:
For operation: -10oC ~ 40oC (14oF ~ 104oF)
For storage: -20oC ~ 60oC (-4oF ~ 140oF)
Certifications: CE, RoHS, Fcc, Patent


*We provide two different version of this car air purifier product: JO-6310 Pro and JO-6310 Lite.
Their specifications, functions, features, and prices are different. Please contact us for the best detail offer. Thank you.
*Product appearance in kind prevail. Product design, color, stock, functions and specifications are subject to change without notice. If there is any error or misunderstanding on the content, we reserve the right of final interpretation for the content herein. Please contact us for the latest information. Thank you.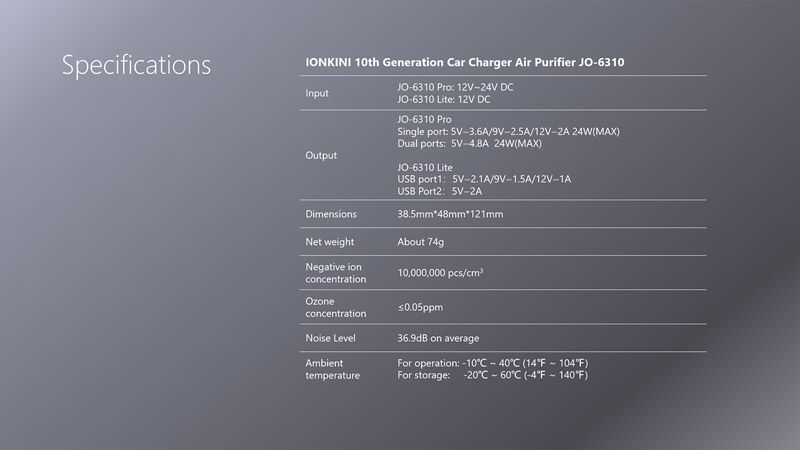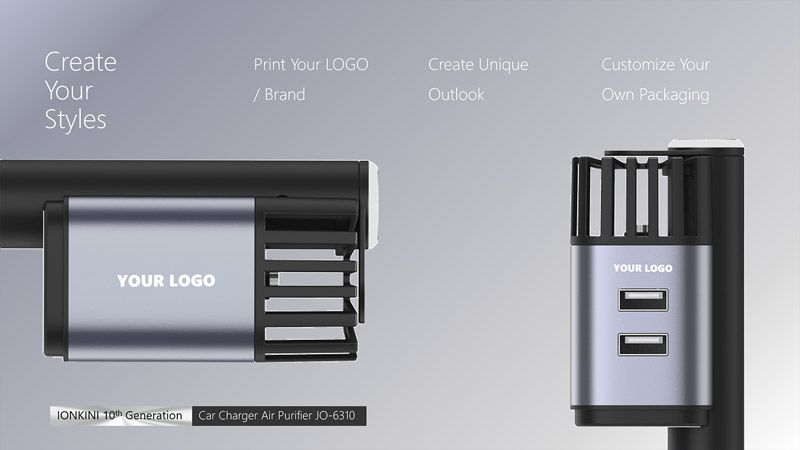 OEM & ODM
We provide OEM/ODM Service.If you would like to have logo printing
or customize the packaging and other features.Please contact us for more details.
Contact UsStill have some problems? Let's get in touch!Please click Contact
Now to get more details and the latest offer. Thank you:)